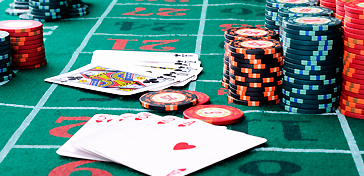 Everything Atlantic City Casinos.
Joe and Barbara Arnashus started the Facebook group Everything A.C. Casinos back in August 2016. In that short period of time, their group has grown to over 10,000 members. They created the group for people who shared the same love for gambling and Atlantic City, NJ. as they did. The results were baffling. Joe thought that if just 25 people joined the group, that would be a success. To his, and Barbara's surprise, the group took off. 
They now run yearly EAC members anniversary parties and Ugly Sweater Christmas parties. These get togethers usually consist of around 250 members showing up to give support.  
Joe and Barbara also give out "Lucky Horseshoes".  
If you see them walking in the casino, be sure to stop them and say hello and maybe you'll receive one of these horseshoes. Barb and Joe are helped along the way by their admin team from Facebook who also give out horseshoes when seen in the casino.
In addition to growing our Facebook page, we enjoy arranging member meets so that our members can get to know each other.
This year we were fortunate, with the help of our members, to raise a little over $1000 in gift cards as well as 2 huge bags of donations for Covenant House of Atlantic City. Mark Giannantonio was kind enough to also donate a check for $1000 on behalf of Resorts!
With our AC Insider blog, learn about the best of what Atlantic City has to offer.